Don't give up the taste when you cook without the sugar.

If you or a family member has diabetes, there is no reason not to enjoy great tasting food (especially diabetic desserts), lunch, dinner, even the Holidays. In years past, people with diabetes were expected to follow a strict diet regimen. Today, experts know there is no need for special foods or "diabetic" food products. You don't have to make special diabetic dessert treats for yourself or someone in your family who has diabetes. Everyone can enjoy these delicious diabetic dessert recipes chosen from the Better Homes and Gardens New Diabetic Cookbook. These diabetic dessert recipes and others from the book focus on healthy recipes and tasty foods for the whole family. Here's to Healthy Eating!

View a selection of sugar free recipes and links to on-line retailer that carry diabetic dessert recipe ingredients, sugar substitutes and more for your diabetic meal plan.
Make your selection at the top on page.



Just makes your mouth water! And yes these are sugar free diabetic desserts: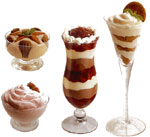 Sugar Free Mousse Mix..